Cobb Salad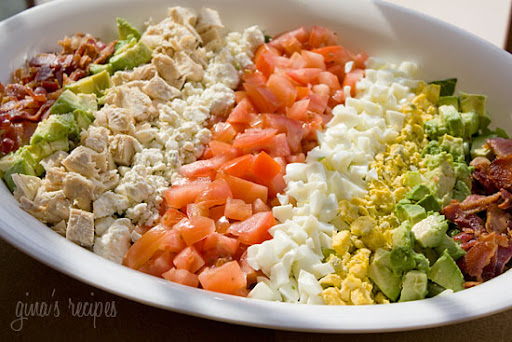 Layers of hard boiled eggs, bacon, blue cheese, tomatoes and avocado make up the classic Cobb Salad. This attractive salad would make a beautiful addition to your Easter table.
You can modify the ingredients to your liking, use turkey bacon, add cucumbers, carrots, whatever you like.
Print
WW Personal Points
Cobb Salad
Ingredients
2 cups shredded romaine lettuce
1/2 head of Boston lettuce, or Iceberg, coarsely chopped
2 hard-boiled large eggs, separated, whites and yolks finely chopped
5 slices of bacon, cooked and crumbled
1 ripe hass avocado, cut into 1/2-inch pieces
6 oz chicken breast, cooked and diced
2 to matoes, finely chopped
1/2 cup crumbled blue cheese reduced fat
Red Wine Tomato Vinaigrette
1 medium ripe tomato
1 clove crushed garlic
1 tbsp red wine vinegar
3 tbsp extra virgin olive oil
1 tsp dijon mustard
1 tbsp lemon juice
2 tbsp water
1/2 tsp oregano
salt and fresh pepper to taste
1 tbsp minced shallot
Instructions
For the Red Wine Tomato Vinaigrette:
Chop tomato in food processor.

Add crushed garlic, vinegar, lemon juice, water, dijon mustard, oregano, salt and pepper.

Pulse a few times until smooth.

Add chopped shallot and mix to blend.

Set aside to allow the flavors to blend well.
For the Salad:
Arrange chopped lettuce on the bottom of a large platter.

Layer the chicken, bacon, tomato, egg and avocado in neat rows over the greens.

Top with this tomato vinaigrette.
Nutrition
Serving: 1/8, Calories: 172kcal, Carbohydrates: 4g, Protein: 11.1g, Fat: 12.4g, Saturated Fat: 3.1g, Cholesterol: 69.7mg, Sodium: 244.9mg, Fiber: 2g, Sugar: 1.4g
WW Points Plus: 4
Keywords: Gluten Free